MOVIE OF THE MONTH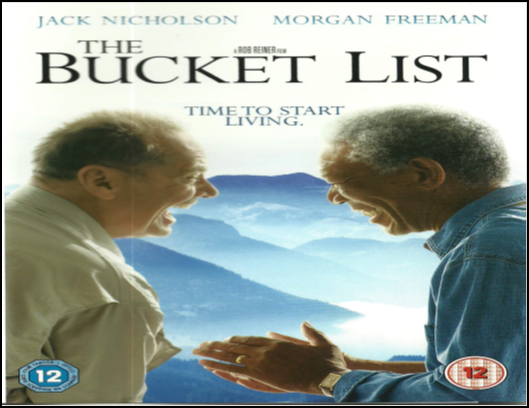 The two terminally ill men plots their trip with Movie of the month
wish list of things to do before they "kick the bucket." Jack Nicholson and Morgan Freeman star as two terminally ill cancer patients who decide to break out of the hospital and live their last days to the fullest .Though initially the pair seems to have nothing in common, conversation gradually reveals that both men have a long list of goals they wish to accomplish before they kick the bucket, and an unrealized desire to discover what kind of men they really are. But one can't accomplish such lofty objectives from the confines of a hospital bed, so now, in order to live their lives to the absolute fullest, Edward and Carter will have to make a break for it. With a checklist that includes playing the poker tables in Monte Carlo, consuming copious amounts of caviar, racing the fastest machines on four wheels, and much more, these two terminally ill men will do their best to fit a lifetime of experience into their last remaining days while forging an unlikely, but truly remarkable, friendship.
BOOK OF THE MONTH
Siddhartha is one of the great philosophical novels. Profoundly insightful, it is also a beautifully written story that begins as Siddhartha, son of an Indian Brahman, leaves his family and begins a lifelong journey towards Enlightenment. On the way he faces the entire range of human experience and emotion: he lives with ascetics, meets Gotama the Buddha, learns the art of love from Kamala the courtesan, and is transformed by the simple philosophy of the ferryman Vasudeva whose wisdom comes not from learned teachings but from observing the River. Herman Hesse (1877-1962) was a German-Swiss novelist, poet, and painter. He was awarded the Nobel Prize in Literature in 1946. (Summary by Adrian Praetzellis)
Healing music of the month
To be in love is to obliterate boundaries this state has no religion other than based on love ,not confined by ideologies, it is limitless. The odyssey of love showcases the rich treasure of five soothing composition depicting love in its progression to eternity. The most unique feature of this piece of work is its origin in the rich treasure of Anandmurti Gurumaa's musical heritage.